The Rania Vacation Club stands amidst beautiful landscaped gardens overlooking a quiet sandy cove, yet is just two kilometres from the heart of Kato Pafos. It has been built in traditional Cypriot style incorporating natural wood and stone and a welcoming ambience.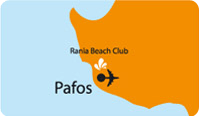 The word pleasure is synonymous with holidays. The staff is keen that you enjoy your stay on Aphrodite's Island.
The resort has 47 spacious apartments, each beautifully furnished and with a private terrace.
Unit Facilities
• Satellite TV
• Telephone
• Safety Box
• Air conditioning / Heating
• Radio/CD Player
• Hair Dryer
• Kitchenette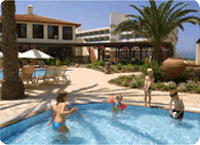 All warmly welcome visitors of all abilities from novice to professional!
Within 30 minutes drive of the Rania Vacation Club are three world-class golf courses.
Resort Facilities & Services
• Swimming pool
• Children's Play Area & Pool
• Sun deck
• Water sports
• Fishing
• Tennis court
• Bar/Restaurant
• 18 Hole Golf Course, 20kms
• Bowling Green 30kms
www.greenbowlingcyprus.com
For those who enjoy the quieter things in life there are deserted beaches for enjoying a good read and leisurely swim!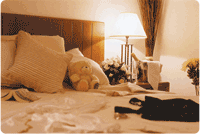 The other piece of good news is that the Rania Vacation Club conveniently lies just 15 kilometres from Pafos International Airport, so, at the end of your holiday, when the staff wave goodbye with the wish that you will be back soon. They know that there is a very good chance you will be!
Rania Vacation Club
Poseidonos Ave.,
Tel: +357 26965444,
Fax: +357 26965698
e-mail: rania@cytanet.com.cy
Postal Address:
P.O. Box: 62025
CY - Pafos